Disclosure: The Organic Society accepts advertising, sponsorship, affiliate links and other forms of compensation, which may or may not influence the advertising content, topics or articles written on this site. Click here for more information.
Winter is here and when it's cold outside, nothing beats a nice winter soup to keep you warm. We're curated the best soup recipes we could find from food bloggers across the world. Best of all, these soups are healthy, delicious and meat free.
So without further a due, here are our picks for 8 of the best winter soups you should try this winter  – certainly something for everyone to enjoy.
8 of the Best Soups to keep you warm this winter
1. Carrot & ginger soup
What do you get when you take carrot and mix it with ginger? You get this hearty immune boosting carrot and ginger soup.
Ready in: 10 minutes
Recipe by: bbc good food.
2. Chipotle Black Bean Tortilla Soup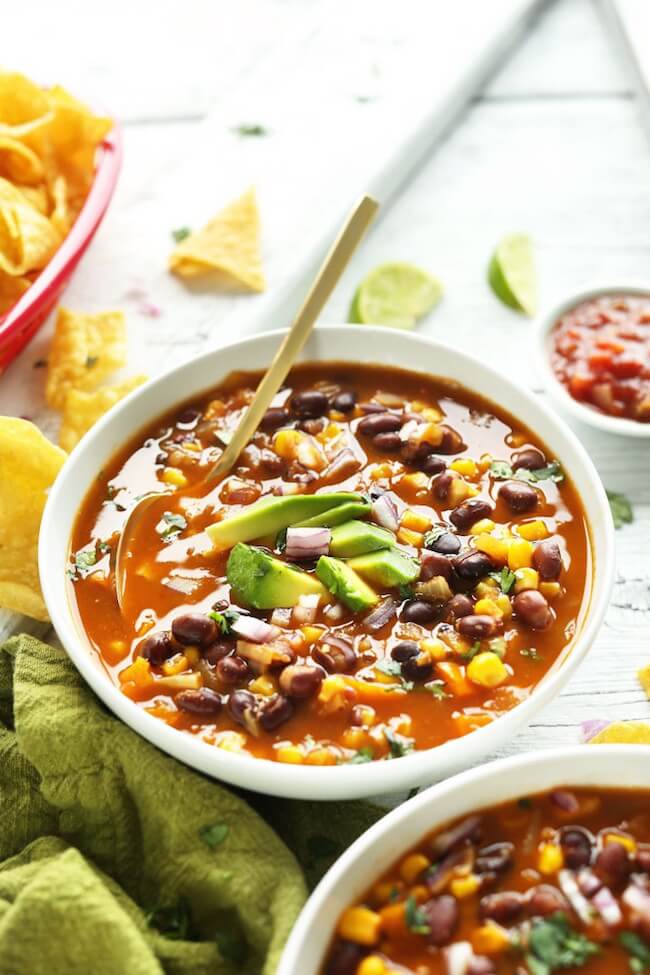 3. Vegan Wild Mushroom Stroganoff Soup
This vegan rendition of Stroganoff is transformed into the most delicious comforting plant-based soup!
Ready in: 25 minutes
Recipe by: RabbitAndWolves
4. Roasted Red Pepper, Tomato & Lentil Soup
A hearty and vibrant vegan soup with delicious roasted red peppers, tomatoes and lentils. This soup will leave you feeling full and nourished – perfect for a cosy night in by the fire.
Ready in: 1 hour 10 minutes (prep 10 minutes, cook 1 hour)
Recipe by: LoveFoodNourish
5. Spicy Black Bean Soup
So comforting you want to sit in it. Only vegan ingredients, great taste and ready in 20 minutes. High in protein and fiber. You won't be disappointed! A great vegan winter soup recipe, so tasty!
Ready in: 20 minutes
Recipe by: HurryTheFoodUp
6. Vegan Tortilla Soup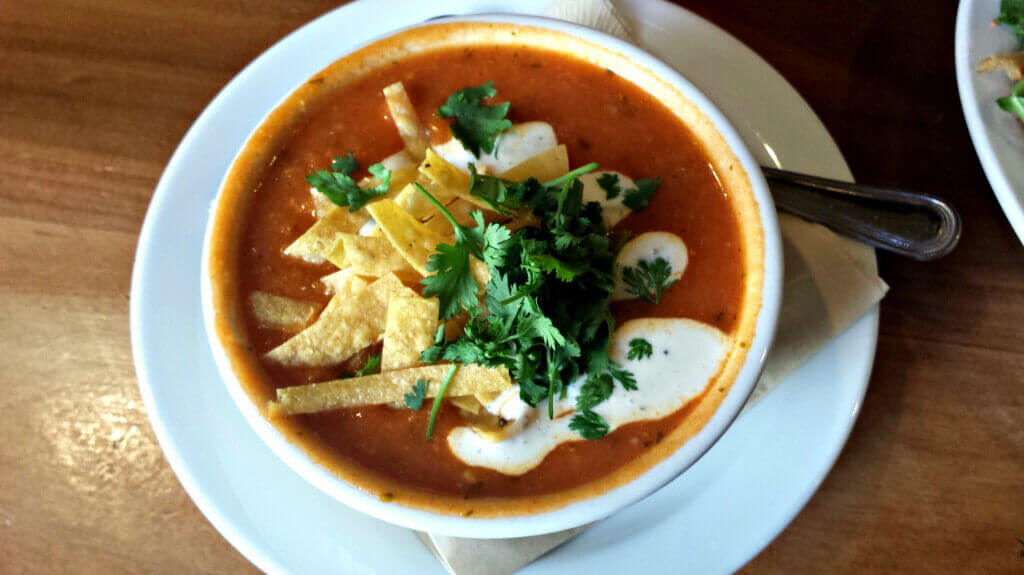 The quickest way to warm up those winter nights is to add some spicy jalapenos to the menu. This mouth-watering soup is sure to add that extra kick that's perfect for those winter dinners at home.
Ready in: 20 minutes
Recipe by: Peta.org
7. Easy Vegan Ramen
Amazing, 10-ingredient vegan ramen made with 1-pot mushroom broth, crispy tofu, and miso-roasted vegetables. A hearty, satisfying, and delicious plant-based meal.
Ready in: 20 minutes
Recipe by: Minimalistbaker
8. Classic Vegan Pho (Vietnamese Noodle Soup)
This recipe is really pho-nominal. "Pho" (pronounced more like FUnny than PHOne) is a Vietnamese noodle soup made with rice noodles steeped in an insanely flavorful broth, topped with lots of fresh aromatic veggies.
Ready in: 20 minutes
Recipe by: Oneingredienchef