Disclosure: The Organic Society accepts advertising, sponsorship, affiliate links and other forms of compensation, which may or may not influence the advertising content, topics or articles written on this site. Click here for more information.
When it comes to Summer, nothing goes down better than a fresh, healthy summer salad at lunch or dinner. We're scoured the internet to bring you the best, mouth-watering summer salads for you to enjoy. A collection so yummy, that you must try.
7 Best Summer Salads You Must Try!
Grilled Zucchini Salad with Corn, Chickpeas, Sprouts and a Creamy Sunflower Dressing
Those rolled up zucchini rosettes might be taking it a little far for everyday, regular life. Same goes for the flowers I stopped and picked after my run yesterday. You guys, I couldn't help myself. Summer is all about getting carried away, isn't it? Recipe here.
Grilled Corn and Farro Salad
This one couldn't be easier to put together. Char the corn on the grill (or a grill pan/broiler) then remove the kernels. Toss with the other ingredients and a yummy lemon-garlic dressing and that's it! I tend to share a lot of simple salad recipes this time of year. Ones that are easy to take to picnics, potlucks, gatherings, lunches– you name it. Recipe here.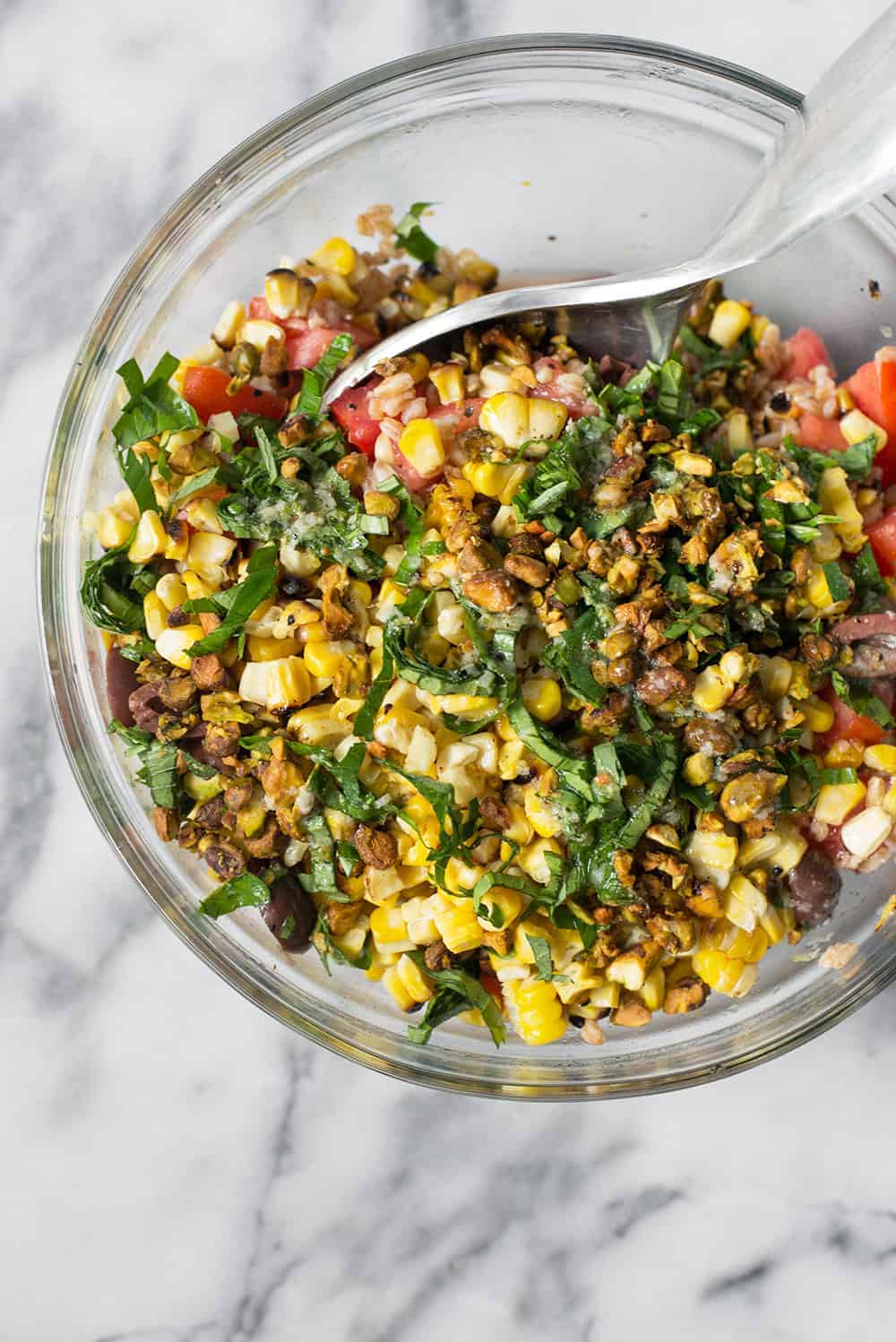 Roasted Acorn Squash and Quinoa Salad with Cranberries and Orange Maple Tahini Dressing
This healthy quinoa salad is mixed with maple roasted acorn squash, cranberries and oranges for a fall meal that is gluten free and vegan friendly. Recipe here.
Vegan Greek Salad with Tofu Feta
Vegan Greek Salad with Tofu Feta! The best salad for summer; packed with protein and fiber. A must make! Vegan & Gluten-Free. Recipe here.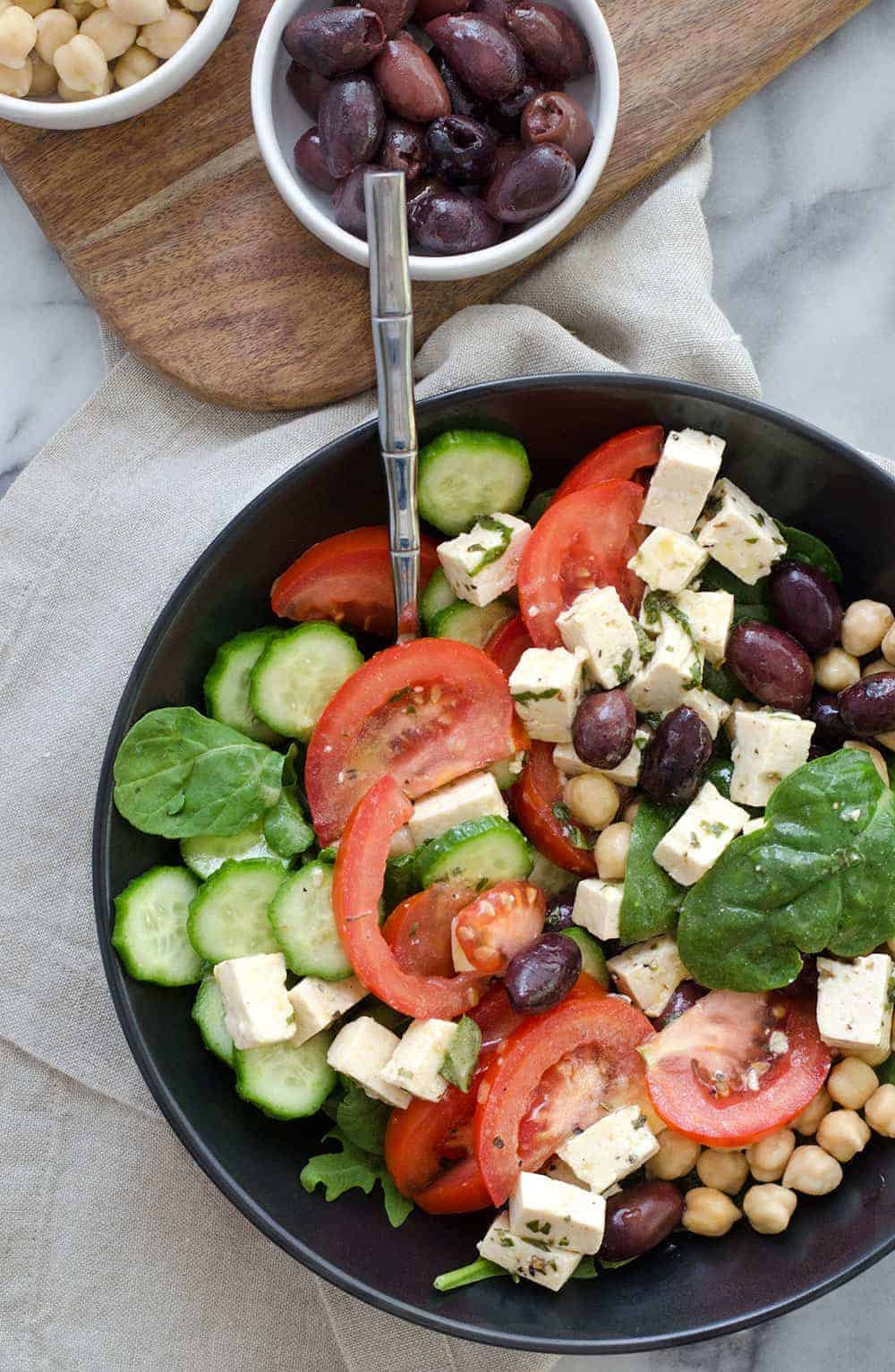 Fattoush Salad
Fattoush is a Lebanese bread salad made with toasted or fried pieces of pita combined with mixed greens and other vegetables, such as tomatoes and radishes. It belongs to the family of dishes known as fattat, which use stale flat bread as a base. Recipe here.
Pear, Pomegranate and Roasted Butternut Squash Salad with Maple Sesame Vinaigrette 
Now, this maple-sesame vinaigrette. Don't change a thing about it – it's honestly the tastiest vinaigrette. The sweetness in the squash and the pears bring out its sweetness, while the saltiness of the soy sauce and savoriness of the sesame oil balance everything else out for the perfect, well, umami. Recipe here.
Roasted Sweet Potato and Chickpea Salad
This would make the perfect plant-based meal for weeknight dinners or for hosting! Divide it into two for a hearty entree, or into four for a hearty side dish alongside meals like Grillable Veggie Burgers, Garlic Mac 'n' Cheese, or Easy Vegan Falafel. Recipe here.
Give them a try and let us know which Summer salad is your favourite. If you already have a favourite, please share in the comments below.